Last updated on July 2, 2020
I'm happy to announce that the audiobook for Raven Thrall is officially in production with the talented Lynn Norris at the mic.
I received the first 15 minutes last week, and it was terrific. I asked for just a few changes (mostly pronunciations of world-specific words) and got to listen to the revised prologue today. Quite excellent.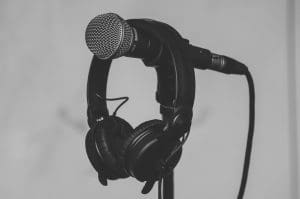 Listening to Lynn bring Mariah, Magnus, and Ashanya to life is exhilarating for me. I spend a lot of time everyday in front of the screen writing, editing, and designing, and over the last few years, audiobooks have become my preferred method of reading for enjoyment. (These eyes need every break they can get!) So, I never considered not turning Raven Thrall into an audiobook, even if I had to record it myself.
Fortunately, Lynn, a talented voice over artist, agreed to take the project, and I'm very pleased so far, and I hope you will be too.
Look for the audiobook, coming mid to late summer on Audible!