Last updated on March 8, 2020
The Forest House by Tamara Rokicki
My Rating: 4 out of 5 stars
Warning: Minor Spoilers
The Forest House, Book One of The Ashar Prophecies, is a promising young adult paranormal fantasy from debut author Tamara Rokicki. The book adds a new twist to vampire lore while still keeping  favorite mores alive.
The greatest strength of this novel is its pacing. It's one of those books where you sit down intending to read one chapter and end up reading six instead. It pulls you brilliantly along with lead character Hera in her journey from anxiety-ridden outcast to high priestess of a sect of vampires she didn't even know existed. (She didn't know there were vampires, let alone castes of them!)
The characters, most notably Hera herself, are believable and relatable with strong and unique voices. I was a little worried when I got to the kidnapping part. Kidnapping stories can quickly cross the line to feeling contrived, but with a strong hold on her character and her motivations, Rokicki plays it perfectly.
I feel like we're still getting to know Aethen, Hera's love interest, but that's natural since The Forest House is all from Hera's point of view. In fact, it makes me want to go grab Rokicki's short story, "Aethen's Awakening" to get to know him even better.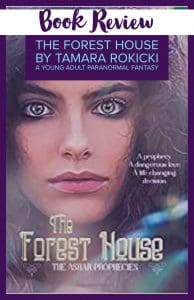 I am a fiction editor, so I'm kind of nitpicky about these things. I felt the book could have used one more pass for things like the occasional dropped word, wrong word (expect vs. except), and dangling participle. However, these issues were minor and in no way impeded my enjoyment of this story.
It's a definite page turner. Don't be surprised when you finish it and are asking for the next one. Write quickly, Rokicki, all right?